André and Roland Schaumberger are board members of the agricultural cooperative Agronaro. Elke Gültner supports her husband Roland and his brother André in management and marketing matters.
The cooperative and its arable land are located in the heart of Europe. The Hanfleben headquarters are located in Eger, Czech Republic - only 5 minutes by car from their German homeland, the northern Upper Palatinate.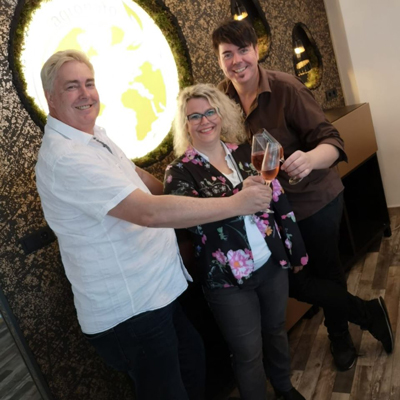 The Hanfleben brand was founded in 2019 as a family business. André, Roland and Elke care about nature, sustainability, health and the well-being of people. Elke has been dealing with the topic of health through CBD for many years and was then enthusiastic about the many advantages of the hemp plant, the effect on your own physical well-being and the positive development of your blood values. So she sat down with your husband and your brother-in-law. In this meeting they developed the idea for hemp life. The path to founding the company was not easy. After all, the product is supposedly part of a blacklist. But after numerous hurdles and discussions, the starting signal was given for the cultivation of industrial hemp - the raw material for the Hanfleben products.
We love hemp! The well-being of our Hanfleben customers and hemp lovers is our top priority. Our food hemp is subject to strict controls. We have both our hemp plants and our hemp life products tested several times by European laboratories - including TÜV Süd - and are subject to strict quality controls.
We grow fairly and in a controlled manner. Our trained German farmers pay great attention to our most important asset on this planet - the healthy topsoil. Our hemp is not treated with herbicides and pesticides.
With the Agronaro cooperative, we are actively committed to environmental protection, climate protection and the health of humans and animals. For our generation, the children, and grandchildren, we want to leave an ecological footprint from Hanfleben.
We also grow a C-4 weed called Miscanthus. Miscanthus is planted once in the ground and grows up to 35 years. Miscanthus, also known as giant Chinese reed or elephant grass, binds tons of CO2 per hectare each year. We process our Miscanthus into pH-neutral, low-dust and highly absorbent bedding pellets for animals (horses, cats, poultry, rodents). We grow sweet lupins, oats and spelled on other areas. Great fruits beneficial to human health.
The cooperative comprises 610 hectares of farmland, which is cultivated completely sustainably by German farmers. Food hemp therefore complements the concept of the cooperative very well.
Because hemp is one of the most sustainable crops in the world. It does not need to be treated with chemical fertilizers, can be completely processed and is perfect for the climate. Because one hectare of hemp converts 20 tons of CO 2 per year. That is twice as much CO 2 as one hectare of forest converts.
Hemp is a deep rooter. So it loosens up barren soil and makes it suitable for demanding plants – such as e.g. B. sweet lupins – an attractive habitat again. In addition, industrial hemp offers the best ingredients for human and animal nutrition.
Healthy for nature and people? – This can only be a direct hit.
So André, Roland and Elke decided to produce healthy and, above all, high-quality products from food hemp - the basis of the Hanfleben shop
Chief Assistant & Support